Headaches? Low Back or Neck Pain? 
Feel better with Activator Methods®!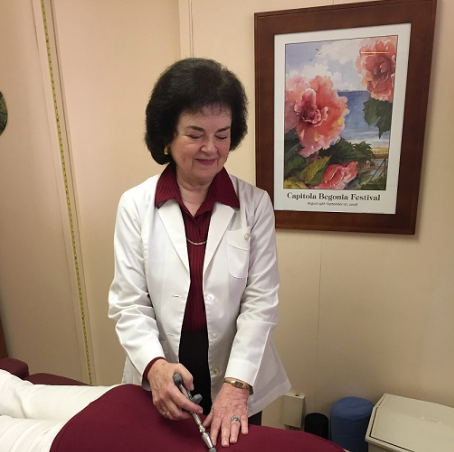 Neck and back pain, headaches, and other health problems can stem from old injuries and everyday living that can cause the body to lose proper alignment and motion. This dysfunction can irritate your nervous system, causing pain and problems throughout the body.
By restoring proper balance and function, chiropractic care can help the body heal itself so you can feel your best. Dr. English has spent many years of study and practice to become Advanced Proficiency Rated in Activator Methods®, which accomplishes this goal through safe, effective, and gentle low-force adjustments.
Patients of all ages from children to seniors can enjoy the benefits of the quick and comfortable Activator adjustment. The low-force thrust of the instrument, and the doctor's ability to pinpoint the location of the problem, can relieve a patient's pain with little to no discomfort.
The Activator hand-held instrument has been studied extensively with results published in hundreds of peer-reviewed research papers, and was designed to give patients a specific and gentle alignment. Incorporating the latest advances in orthopedic, neurological, and chiropractic testing, this unique system uses over 50 years of research to help restore body balance safely and comfortably. Read more at Activator.com.
Make Activator Methods® part of your healthy lifestyle!
Applied Clinical Nutrition

Stressed? Can't sleep? Tummy troubles?
These are some of the common symptoms we treat at Oak Grove Chiropractic and Wellness, where we offer natural, non-medicated solutions for these and other conditions.
Our in-office Nutritional Balance Exam evaluates:
Stress, Adrenal and Digestive health
Mineral deficiencies
Dietary habits
We also utilize laboratory testing including:
Saliva testing for stress and hormone levels
Blood and urine analysis for nutritional deficiencies and imbalances
After your diagnosis, our Reflex Balance Analysis protocol provides a customized evaluation for needed therapies and supplements.
To support your healing, we use nutritionally superior Standard Process® concentrated food supplements, highest quality MediHerb® botanicals, and other effective supplements and supplies.
We also offer 10-Day and 21-Day Detoxification programs for deep body cleansing and healing.
In addition to nutrition, improving alignment and function with Activator® chiropractic adjusting is also an important modality to improve health, vitality and assist in body healing.
Why suffer? Get help today!
CONTACT US
Dr. Jo English DC ACN
650-327-2626 CLICK TO CALL
681 Oak Grove Ave, Suite C, Menlo Park CA 94025
CLINIC HOURS
 By Appointment only